Tonight for dinner I wanted something different. I love chili but my husband hates the beans and they are not allowed on the Dukan diet (we are in the cruise phase still). So I decided to make beanless chili and mozzarella arepas.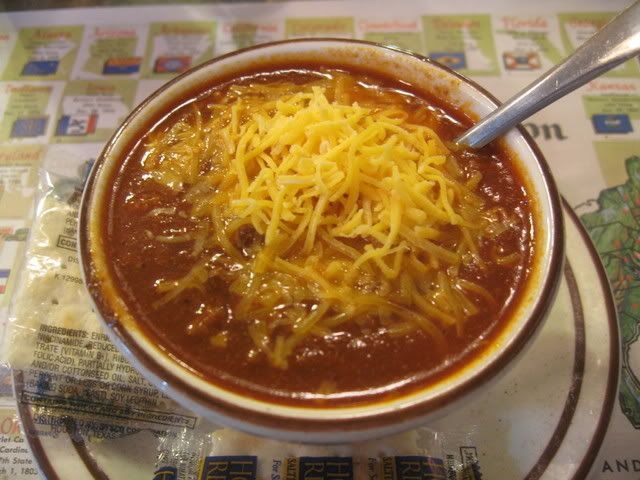 I got the recipe from this site:
http://www.myrecipes.com/recipe/crock-pot-chili-10000000577286/
Chili Ingredients
1 lb lean ground beef

1/2 cup

chopped green bell pepper

1/2 onion

1/4 cup

water

1 package 30% less sodium

chili powder

Garlic to taste

1

(14.5-ounce) can stewed tomatoes

6 tablespoons

shredded reduced-fat cheddar cheese or to taste
Directions
Cook the ground round in a large nonstick skillet over medium-high heat until brown, stirring to crumble. Add chopped onion, garlic and the green pepper, and cook for 7 minutes or until onion is tender. Place meat mixture in an electric slow cooker, and stir in beans and tomatoes. Cover with lid, and cook on low-heat setting for 4 hours. Spoon into bowls; sprinkle with cheese.
Note: The chili can be made on the stovetop if you don't have a slow cooker. After adding the beans and the tomatoes, bring to a boil. Reduce heat; simmer, partially covered, 1 1/2 hours.
This is how my chili came out!!!
I love the Arepas at the
Sunlife Stadium
and I found their recipe on this site:
http://blogs.miaminewtimes.com/shortorder/2010/05/recipe_for_sun_life_stadium_ch.php
Of course I have to Dukanize it so I can eat it on my diet
Mozzarella Stuffed Arepa Ingredients
:
Cheese Arepas
Centerplate Chef Orlando Morales
3/4 cup skim milk
2 tsp. butter
1 cup arepa flour or fine corn meal (I am using Corn Flour)
1/3 cup brown sugar (I am using Splenda brown sugar)
1/4 tsp. salt
1 cup shredded fat free mozzarella (more or less to taste)
Directions:
Melt unsalted butter and add to skim milk.
Mix the arepa flour, salt and brown sugar. Make a well in the center and gradually add the milk-and-butter mixture. Stir until there are no lumps.
Work the dough until it is smooth and sticky.
Divide the dough into four equal pieces and form it into four round flat patties.
Stuff each patty with cheese.
Add butter to sauté pan and fry until cheese melts and the arepa is golden brown.
My Arepas were a hit!!! They tasted just like the ones at the stadium!!! My husband LOVED them and wants them again already!! The pics below are how my Arepas came out!
Cooking the last 3 on the griddle
OH MY GOSH were these so GOOD!!!!!!!